These women are examples of taking things a wee bit too far -- not that they would agree, but frankly, I don't think the average man or woman wants to look quite like this: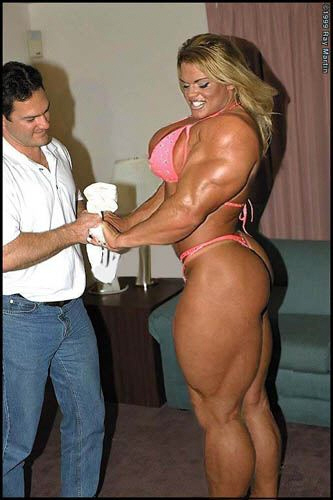 Sort of looks like Anna Nicole Smith on Steriods, doesn't it? Scary.
I Don't Want to Get Bulky! Won't Lifting Weights Make Me Too Big?
Whaaa. That's what the ladies say, but hey, guess what? This only can happen when massive amounts of steroids, plus ridiculous training regimines are taking place. It is simply not going to happen otherwise. Trust me. I've been working out for nearly 30 years and I'm not bulky by a long shot. ;-)
If it were that easy, all the guys would be big hulking monsters, but they aren't either, and they've got the natural hormones it takes (testosterone).
What more freaky women body builder photos? I thought you might ...
Check out the gallery of Women's Body Building Gone Way Too Far
then check out my photo taken awhile back that shows a typical 49-year old weightlifting lady. Big difference, I'd say.