Food Rule: Never Eat Anything Bigger Than Your Head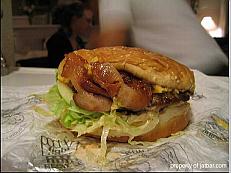 Frankly, this burger looks like it's alive. It's licking it's lips at you, daring you to eat it. Very creepy.
These pictures tell the story. Man versus burger. The quest for enormous food continues. To think that people are going hungry in this country. It baffles the mind.
There is a certain erotic appeal to a man who goes at his food with such gusto!
Click for larger images, if you dare.



These guys are having no problem.




Looks like a proud papa.


I swear, it looks like he's introducing himself to this burger. Hi, Mr. Burger.
I'm Joe, and I'm going to eat you now.



Where'd that pickle crown come from? Don't hurt yourself, now big fella.






This guy is a dreamer, big time.


Plate-sized almost seems
small now, doesn't it?

Yes, apparently I'm obsessed with giant burgers. So sue me. If you eat one of these a year, you're okay. Eat them every week and you're gonna be a bigger person in no time. Read the story of how I stopped eating cheese burgers and fries every week and lost weight and how you can learn to indulge less frequently, yet still enjoy. Notice, none of our burger eaters are overweight?